Something Blue: A Royal Love Story
Famous throughout the world for its elegant cluster design, discover the story behind Princess Diana's sapphire engagement ring, today worn by Catherine, Princess of Wales, formerly Duchess of Cambridge.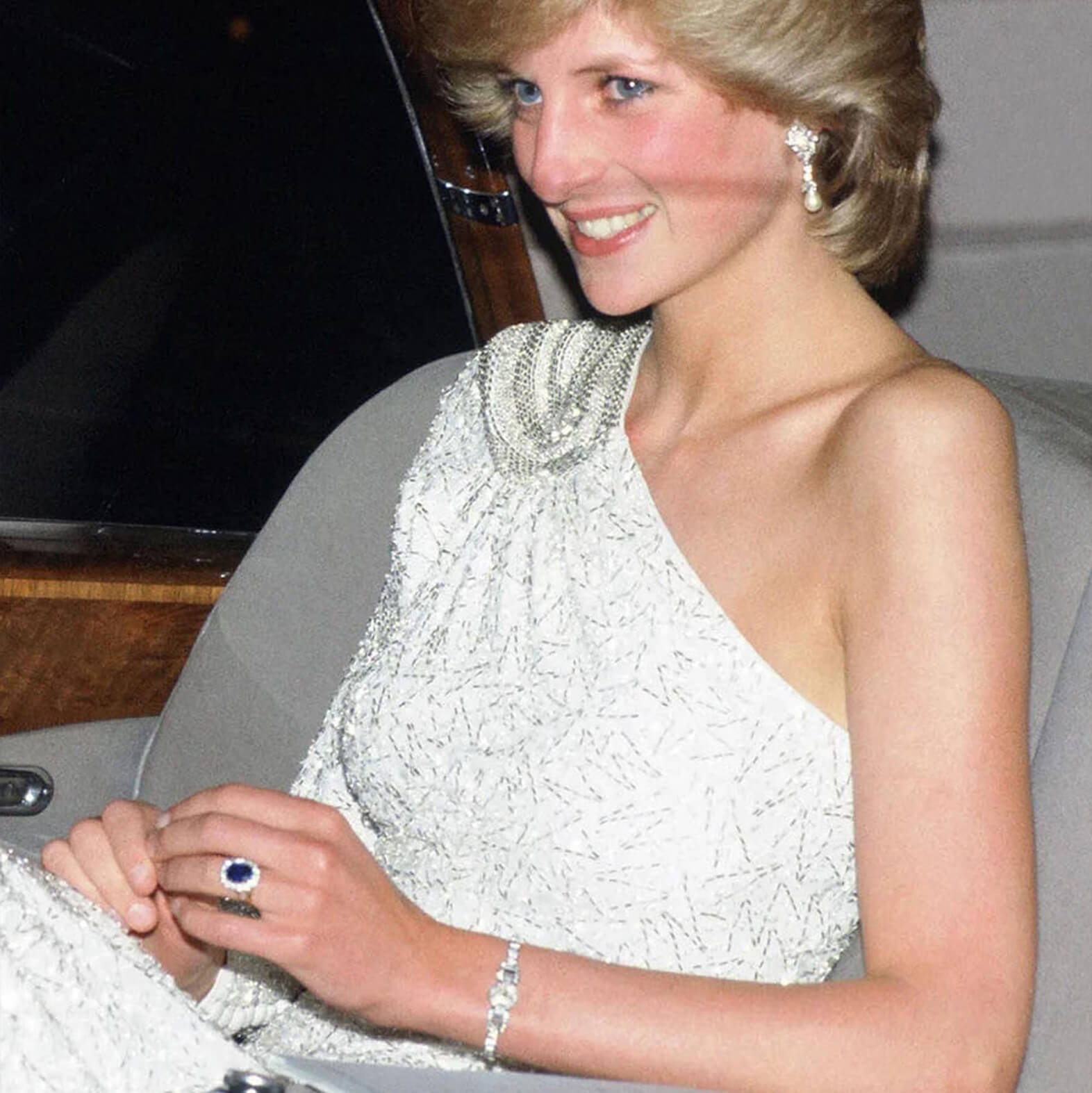 Garrard's long connection with the British royal family has seen stones and styles gain meaning and resonance as jewels have been passed down through generations. Nowhere is this more evident than in Princess Diana's engagement ring, which has a story with so many aspects as to rival the myriad facets of the sapphire at its heart.
In October 2010, HRH Prince William gave Catherine Middleton his mother's sapphire and diamond ring to mark their engagement. "It's a beautiful ring," says Claire Scott, Design and Development Director at Garrard. "The proportions and the size of the diamonds work perfectly together."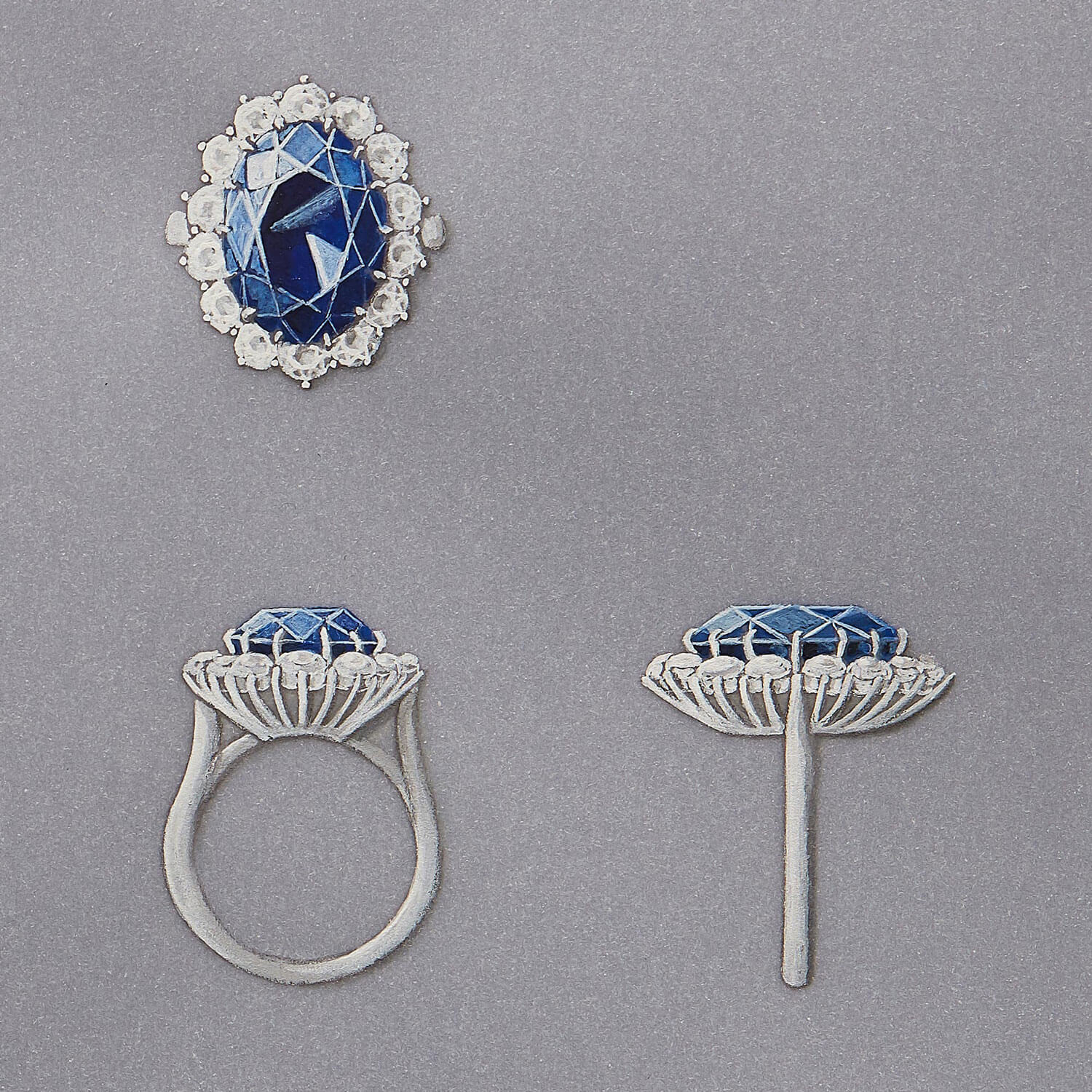 At the centre of the cluster engagement ring is a Ceylon sapphire of singular beauty, surrounded by 14 solitaire diamonds. Offered by the former Prince of Wales, HM King Charles III upon their engagement in 1981, it immediately attracted attention the world over. Now worn by the Princess of Wales, it continues to weave its spell, it is perhaps because of these associations, and the impact of the design, that cluster engagement rings have grown in popularity in recent years.
The iconic sapphire cluster design can be traced back to 1840 and the making of a brooch for a royal wedding, as Claire explains. "Prince Albert commissioned a gorgeous sapphire and diamond cluster brooch to present to Queen Victoria as a wedding gift. The Queen wore it pinned to her dress on the day, as her 'something blue'." If you have watched the ITV drama Victoria, you may have spotted a replica of the brooch, worn by actress Jenna Coleman in her role as the Queen. The original was a favourite with Her Late Majesty Queen Elizabeth II.
Our relationship with the royal family was formalised in Queen Victoria's reign when she appointed Garrard Crown Jeweller in 1843. It was during this period that our designers began to create patterns of diamonds and gemstones that have since become signatures, like the cluster setting. "Just like Queen Victoria's sapphire brooch, Princess Diana's engagement ring features a majestic sapphire and our signature cluster setting," says Claire. "The inspiration for our pieces is always rooted in our heritage."
Sapphires have played a starring role in our history and the cluster ring design has become synonymous with Garrard, inspiring the creation of many bespoke engagement ring designs for the royal family and other clients. Meanwhile, our 1735 cluster engagement rings regularly attract new clients to Garrard who are keen to own a design that has been updated for modern tastes and is ready to write its own history on their own ring finger.
---
"Jewellery is the perfect way to create a memory that lasts. When clients commission or purchase an engagement ring from us, they become part of a wonderful history – one that includes many love stories.

"
Sara Prentice, Creative Director
---
Discover Garrard 1735 engagement rings