The Sovereign's Sceptre: A Priceless Piece of Garrard History
While the word "coronation" comes from the medieval Latin
coronare
, meaning "to crown or adorn with a garland", the Imperial State Crown is not the only piece of Coronation Regalia crafted by Garrard that will confirm King Charles III as the British monarch on 6th May 2023. The Sovereign's Sceptre, one of the world's most valuable jewelled artefacts, will also be presented to the newly crowned King, and it holds perhaps the most remarkable piece of Garrard's entire jewellery making history. 
A ceremonial object used at every coronation since King Charles II assumed the throne in 1661, the Sovereign's Sceptre was redesigned by Garrard in 1910 and is among the finest treasures belonging to the British monarchy. This remodelling, commissioned by Edward VII, saw the historic 530.20 carat Cullinan I diamond, also known as the Great Star of Africa, set at its pinnacle.  
Discovered in 1905 in South Africa, the 3,106 carat rough Cullinan diamond was – and still is – the largest diamond ever unearthed. Given to King Edward VII as a birthday gift before being cleaved into a series of cut diamonds numbered I to IX, the Cullinan I remains the largest cut and colourless diamond in the world. It is also one of the most prestigious stones that Garrard has had the privilege of setting, alongside the Cullinan II, which resides in the Imperial State Crown.   
Detailed in a memorandum between Garrard and Buckingham Palace dating from 10th December 1910, ahead of the coronation of George V, it is noted that the jeweller was "given the difficult task of finding space for the Great Diamond", which is described as "a marvellous stone, absolutely without mark and of the purest whiteness". Referring to the upper portion of the Sovereign's Septre, the memorandum details the new setting that features "bold scrolls relieved by white enamel", "studded with rubies and diamonds".  
 It also describes how Garrard devised a hidden hinge mechanism that allowed the diamond to be removed and worn as a brooch – a deft feat of artisanal engineering. This heart shaped setting inspired the Sovereign Motif, a signature Garrard design that is celebrated in the Aloria and Fanfare fine jewellery collections.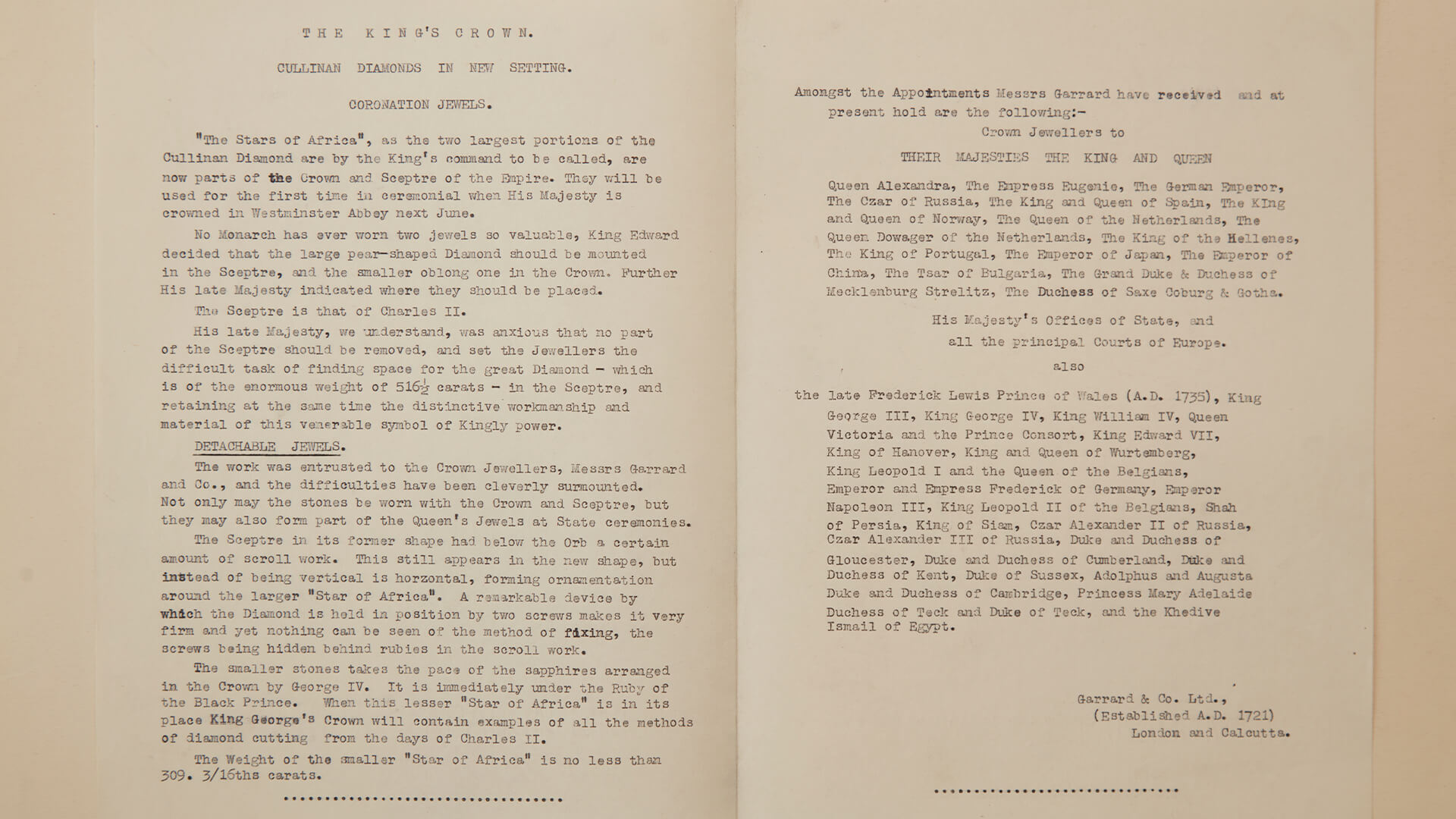 Serving as the Crown Jeweller between 1843 and 2007, Garrard was also responsible for ensuring that the Sovereign's Sceptre was perfectly polished and poised for each coronation. A list from George V's ascent to the throne confirms a full 19 items of regalia that were under Garrard's care at that time. "The record-breaking Cullinan I diamond, one of the most historic stones that Garrard has been entrusted to set, is integral to the coronation ceremony," says Sara Prentice, creative director of Garrard. "The moment that King Charles III is handed the Sovereign's Sceptre, together with the other sacred objects that make up the Coronation Regalia, marks the formal beginning of his reign, and it is wonderful to see Garrard play such an important role in this momentous occasion."