Elevate Your At-Home Entertaining with Garrard's New Crystal Barware Collection
The perfect gift for any number of occasions, including weddings, birthdays and housewarmings, crystal barware brings a sense of ceremony to the experience of entertaining at home. To celebrate the launch of the 11-piece Garrard Barware collection, we explore the heritage behind some of these classic items while taking a closer look at the key pieces in the collection, all handcrafted in Great Britain.  
Raise a G

lass
The foundation of any at-home bar, our Barware collection includes all the luxury glassware you need to entertain guests in style, whatever their tipple. Alongside a crystal balloon gin glass, highball glass and red and white wine glasses, elegant crystal coupes celebrate the modern renaissance of this quintessential Champagne glass.  
Cheers to the Coupe  
Synonymous with celebration, coupes were fashionable in the courts of 17th-century France, when their delicate, shallow bowls and slender stems were used to hold not only Champagne but also a host of other libations enjoyed by the aristocrats of the time. Fast forward to the 1920s and the coupe became a symbol of the Jazz Age. The perfect vessel for serving Champagne, Martinis and any of the other elixirs that came to define the Art Deco era, drinking from our crystal Champagne coupe is always an occasion. 
Crystal decanters are another home bar must-have, whether you want to appreciate the honey-tinged hues of your whiskey or, more practically, wish to let your red wine breathe before enjoying. Sealed with a beautiful, bevelled glass stopper, our crystal liquor decanter holds a full bottle of spirit, with its elegant curves and graphic, hand-carved design contributing to its statement-piece status.  
Top-Shelf Decanters

 
An affirmation of your appreciation for the art and science of wine and a beautiful conversation piece, the Garrard crystal wine decanter places your wine on show while enhancing the experience of drinking it. Its slim neck feels delicate in the hand, while the wider base allows the wine to pool out for greater oxygenation, enhancing its aroma and flavour profile, particularly for bold red wines like Cabernet Sauvignon and Bordeaux blends.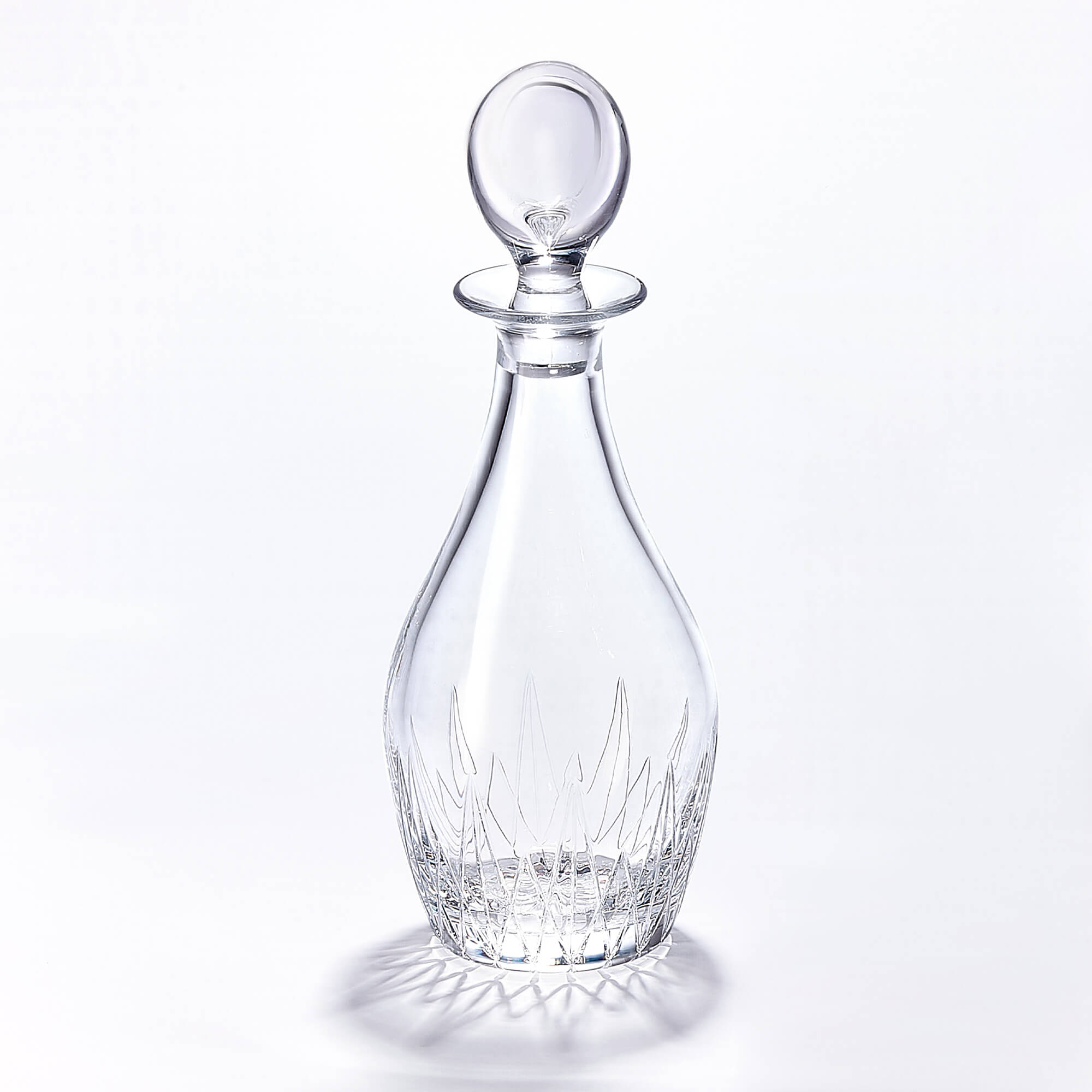 The Art of Wine Decanting
One of the most time-honoured traditions associated with wine is the act of decanting. A ceremonial art that has evolved over centuries, the introduction of wine decanters dates to the late 16th century. Initially created as a vessel to separate the liquid from the sediment, in today's wine culture, the act of decanting remains an integral part of the wine-serving ritual. While modern winemaking techniques have significantly reduced the occurrence of sediment in bottles, decanting still plays a crucial role in allowing wine to breathe.  
Home Bar Essentials
Whether you are mixing drinks for two or hosting a cocktail party for friends, a timeless crystal ice bucket and sterling silver tongs are essential to any home bar setup. Celebrating Garrard's legacy of hand craftsmanship, they add to the spectacle of serving your guests and elevate the simple task of chilling a drink. 
In premium 24% lead crystal, our luxury glassware is handmade in the UK by expert artisans – master glassblowers and cutters who are required to train for 15 years to become fully qualified in their craft. Taking the unmistakable Garrard Windsor motif and translating it in crystal, geometric diamonds are cut into the glass to radiate upwards from the base of the decanters, carafe, glasses and ice bucket. The graphic design echoes the Art Deco era, when decorative, engraved glassware was the height of decadence.  
Originally developed by the ancient Romans some 2,000 years ago, the art of crystal making dates back thousands of years. All the crystal pieces are made using historic techniques that have changed little since Roman times – a process that produces very little waste. Glass is one of very few materials that can be recycled indefinitely, with any excess or broken crystal reused.  
Designed for celebratory sipping, every piece in our collection of luxury homeware is a little work of art and a reason – not that you need one – to celebrate the good times. Santé!